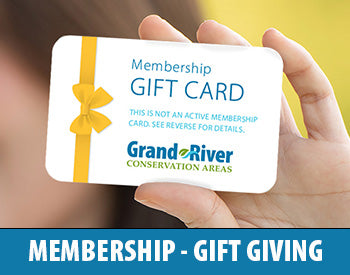 GRCA
Gift a Grand River Conservation Areas Membership
Give the gift of the great outdoors!
Are you purchasing a Membership to give as a gift? You're in the right place! Upon purchase, the Grand River Conservation Areas Membership Gift Card is loaded with the value equal to the current cost of 1 (one) Grand River Conservation Areas Membership.
The recipient of your gift will redeem the gift card at a Grand River Conservation Area where it will be exchanged for an activated Membership card. Read more about how gift cards are redeemed for Membership cards here.
Your gift recipient can use their activated Grand River Conservation Areas Membership to enter 10 conservation areas and the Luther Marsh Wildlife Management Area, every day of the operating season, for up to 6 people in one vehicle (or walking in). Please note the Membership is not valid at Elora Quarry Conservation Area.
The Membership is valid for one full year from the date of activation, so your gift recipient can use it during all four seasons in participating areas. Visit our Membership page to learn more about the benefits of a membership and other important details
Your order will be fulfilled within three business days. Shipping times vary depending on your location. 
Purchasing a membership to use yourself?
Click here to purchase a Grand River Conservation Areas Membership that will be put directly in your name. There is no need to purchase a gift card.
Capacity limits
Our conservation areas may close without notice once capacity has been reached. Purchasing a Grand River Conservation Areas Membership does not guarantee entrance to the conservation area if capacity has been reached for that day.
New name, same great membership
March 2022: To better align with our strategic priorities, the name of our network of pay-for-use conservation areas is transitioning from Grand River Parks to Grand River Conservation Areas. To help communicate our new identity, a new logo has been created. You may notice the transition to the new name and new logo on our website, in social media and at the conservation areas. In order to be green and not wasteful, you or your gift recipient may receive membership materials that display the former name. The function of the membership is not affected in any way, however, and materials will be updated with the new branding as needed.